Diana Marye Huff is a classically trained, abundantly talented professional artist working in several fields including fine oils, illustration, and painting on furniture in a most unique and remarkable manner.
Her drawings are witty, beguiling and romantic. Tiffany, Crane, Bergdoff's, Glamour Magazine, have all hired her to create illustrations for their products.
Diana painted a fanciful piece of artwork for Chelsea Clinton's Wedding, which has been all over the TV news. It was purchased as a gift by one of the Clinton's guests.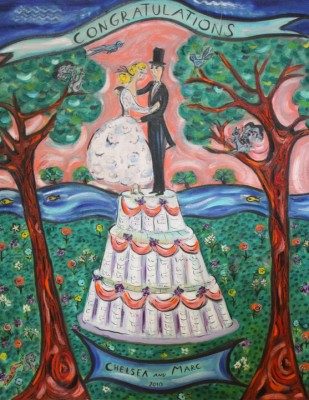 See below for Diana's self description:
"Well this is my self-portrait it captures the acid essence of myself and my two girls. We tend toward Balzac, Lautrec and Marie Antoinette with a spare note of St. Francis for balance."
Follow this link to Diana's website, to see more of her whimsical and imaginative work: www.DianaMaryeHuff.com
| | | | |
| --- | --- | --- | --- |
| | | | DMH04: We Three |
| | | | |
| DMH05: Squirrel Dinner | DMH06: Day on the Town | DMH07: Meditation | |
| | | | |
| DMH09: Seahorses | DMH10: Bouquet | DMH11: Black Cat | DMH12: Halloween Candy |
| | | | |
| DMH13: Trick or Treat | DMH14: Holiday Party | DMH15: Dance of the Snowmen | DMH16: Yule Tree |
| | | | |
| | | | |